The REDS Zone - December 2021 Edition
---
---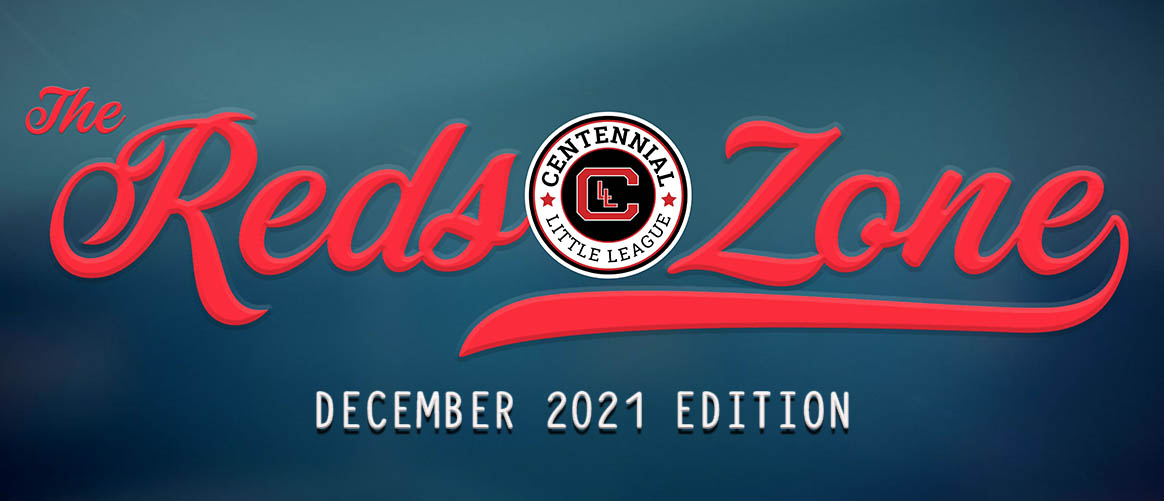 ---
President's Message
I would like to take this opportunity to introduce myself to our Association members. My name is Shawn Botterill and I was recently elected to serve as the President of Centennial Little League at our AGM in September. Some of you may have seen me around the diamonds as my son Kaydan plays in the Majors division. I also have two other kids - Brayden who is 14, and Karrington who is 12. I am excited for the upcoming 2022 Season as there will be some fantastic changes occurring this season - which are outlined in this Quarterly Reds Zone! The entire Board of Directors would appreciate it if you could take the time and check out all the information enclosed!
The 2022 Season is coming off a successful 2021 season in which we navigated the challenges of Covid, and still had over 400 kids playing T-Ball and baseball. Scheduling was challenging with the on again/off again restrictions, but by the number of smiling faces I saw on the diamonds, overall it was a pretty successful Spring season.
Our Summer All-Star teams also have successful seasons in the abbreviated summer program. Our Minors played extremely well, and just missed out on the playoffs in Medicine Hat for their AA Division. Our Majors team also played incredibly well, and brought home the Provincial Championship for the A division. Meanwhile our Teenage/Seniors team brought home the Provincial Championship in their division. It has been a while since CLL has had winning teams over the All Star season, and we brought home two different championships! We are looking forward to building on this success for the 2022 All-Star season.
And lastly, we ran a Fall Ball season again with BowRidge, Sunridge and CalEast (as opposed to LLAB District 3) with just under 300 kids playing in September and October! Everyone had lots of fun and Mother Nature cooperated most of the time!
For 2022 we are looking at a few different changes. Firstly, on October 4th, 2021 Little League International approved our amalgamation with Sunridge Little League, Details on this combination are provided below. . We will be slightly re-structuring our Majors division to be Nationals (House Division) and Majors Division (AAA Interlock teams). This aligns us with other associations in District 3, and with the Little League Rule book. We are also mimicking this restructuring in Minors calling he house division the American League, and the interlock teams Minors. There are also some exciting and important adjustments to the "Teenage" divisions (Junior and Senior) with Little League Alberta creating a Province Wide AAA Travel Team division. Please take the time to read about the new option below, and watch for us announcing an online Q&A session regarding this topic to answer your questions as much as we can!
Also this year - you are going to see some specific advertising around #girlswithgame. This is Little League (and our) initiative to get more girls playing baseball, and staying in longer. We will be hosting a #girlswithgame engagement event looking for your feedback and comments in either Late February or Early March - please watch our social media for those details closer to those dates.
We all look forward to serving the Association this year, and look forward to seeing you all out at the Baseball diamonds!
Yours in Baseball,
Shawn Botterill
President - Centennial Little League
---
Registration OPENS DECEMBER 1!
Registration opens on December 1st for all Divisions and Age Groups! Please go to our Player Registration Page to find all the detailed information and to register your players.
It is IMPORTANT that you note the Closing Dates for Registration as they differ depending on which division your children are in:
| | |
| --- | --- |
| Minors and Above | March 10th, 2022 |
| T-Ball and Rookie Ball | April 15th, 2022 |
It is very important to note that We MAY NOT be able to accommodate any registration in those age groups after Registration has closed.
This year we are doing something different for Volunteering within the league. Please check out our Volunteer Information Page for all the details!
And lastly please remember our Refund policy - there are no refunds after registration closes. To reiterate, Registration closes on March 10th for Minors and Above and April 15th for T-Ball and Rookie Ball. For refunds requested PRIOR to the mentioned registration closure dates, there will be a $20 Administrative Fee applied.
Once again we will be holding several online Virtual Webinars with a Q&A for Registration information this year - Please watch our Facebook and Instagram and website for those announcements.
---
Coaches Needed!
As we do every year ,we need YOU to help us ensure we have enough coaches to offer our programs for all our kids. Without volunteers like yourselves we could not offer our programming at the reasonable costs that we do. All coaches will have the ability to participate in our coaching clinics that will be offered in the spring! This year, there is a slight difference in how you to volunteer to coach.
We kindly ask that all those interested in coaching please submit an application through the RAMP registration system when you register your kids. While we know that this may seem time consuming, it will greatly help us in the administration of the league. This will allow us to streamline the administrative process in regards to teams, and assigning coaches. It will also allow us to better track the Police Information Check information we require from all coaches and volunteers. Thank you for helping us deliver the top notch T-ball and Baseball!
Coaches - SAVE the DATE - April 6th will be the first Coaching Clinic.
---
Centennial Little League is Growing


On October 4th, 2021 Little League International (our Governing body) under the recommendation of Little League Alberta and Little League Canada approved the Amalgamation of Centennial Little League and Sunridge Little League. We are excited about what this unique opportunity brings forth for all our kids, and look forward to working to putting together the best programs possible! This also means that our Association Boundaries are growing.
Both Associations Board of Directors are diligently working towards ensuring that we deliver a fully unified T-Ball and Baseball operations for the 2022 Spring Season. This means that there will be some changes occurring in how things operate - with the biggest change being which diamonds are being used. We want to ensure that kids in our entire area have access to all our diamonds, and the Board has begun working with the City of Calgary to try and ensure that the majority of the diamonds we use will be along the Stoney Trail corridor for everyone's convenience. We appreciate everyone's patience as we work through all of these exciting changes.
Should you have any questions or suggestions, please feel free to contact us at Administrator@cllbaseball.ca.
---
2022 Junior and Senior AAA Provincial Travel Team Division
Little League Alberta will be announcing the formation of a AAA Province Wide division for the Junior and Seniors Divisions. This division will run from April 15 through to the middle of August, and be the sole path for teams to look at the International Little League World Series in these age groups. We are still working out details on all of this but you will have the ability to indicate your interest in potentially participating in this program during the registration process. This will be an "OPT-IN" optional program - if you do not express your interest, you will not be considered to participate. This program will cost MORE than our standard Spring Baseball season, and should your player make the team, you will be invoiced for the additional amount at that time. We have not yet zeroed in on the exact number yet, but do not believe it will be above $750 for the season. We will be holding an information session on December 4th for anyone who is interested. this team will more than likely be composed from kids from multiple associations across District 3. If you have any specific questions - please email the President regarding this option, and please watch our Social Media for the announcement of the Online Q&A regarding this!
---
#GirlsWithGame
This year Centennial Little League will be making a more concerted effort around getting more girls to play baseball, and keep playing longer. Please check out our designated #girlswithgame page on our website and keep your eyes peeled for announcements about the following:
Dedicated Girls Only team option in T-Ball, Rookie Ball and Minors

#GirlsWithGame Parents Engagement Event

#GirlsWithGame Clinic/Event

---
2022 Spring Training Camps
Watch your emails for details on the Spring Training Camps offered by ChangeUp Baseball Academy. They will run for 4 weeks beginning on March 7th for the Minors division and above!
It should be noted that the facility that ChangeUp uses has instituted the Restrictions Exemption Program, therefore all participants 12 years of age or over will be required to be double COVID vaccinated.
---
Evaluations - Save the Dates!
All Evaluations for the Minors division and above will occur on March 11th, 12th and 13th. More details will be shared with Registered Players beginning in February.
Minors and Majors AAA Interlock Evaluations (by invite only based on initial evaluations) will be occurring on April 4th this year.
Juniors/Seniors AAA Division Evaluations will be on April 6th.
---
Fundraising for 2022
Did you know that registration are subsidized by our fundraising efforts? We do this to ensure that we keep fees as reasonable as possible. With COVID affecting the last couple of seasons, we have not had access to our biannual Casino. As such we will be doing three main fundraisers this season.
Firstly, we have secured our AGLC Casino for March 14th/15th. We will be sending out additional details on volunteering opportunities for this in the coming weeks - so please volunteer and help us out! These funds ensure we can maintain our diamonds and provide the proper team equipment.
In addition to the casino, on March 18th, Centennial Little League will be selling the 50/50 Tickets at the Calgary Flames game versus the Buffalo Sabres. We need 20 adults on that date to sell tickets.
During the Registration process you will be able to sign up to volunteer for the Casino and Flames 50/50 - so if you can help out, please select those options!
Both of these options can help you secure your Volunteer Points!
We will also be having an association 50/50 Raffle - We are asking every player to work towards selling $100 worth of raffle tickets. Additionally we are looking for prizes to be added to the Raffle as the pot grows - creating additional winning opportunities for all tickets purchased. If you or your business have anything that you can donate as a prize, please contact us by February 15th at administrator@cllbaseball.ca.
We will be using the RaffleBox platform, which will provide a direct and easy link for each player to sell tickets to family and friends. This makes it easy with no printed tickets to manage or cash to handle! There will also be prizes for the top selling player(s) in each division and a Pizza Party for the one team which sells the most!
Our goal is to get the 50/50 Prize over $20,000 - and we will need your help to get us there!
Should you wish to not participate in selling raffle tickets, you will have the ability to add a Fundraising Opt Out donation while registering your kids!
---
Volunteer Fee Program Change


As mentioned above, there will be a change in how we "manage" everyone's volunteering requirements. We will be piloting a new process for the 2022 season. We will no longer be collecting a Volunteer Fee in advance, as that process creates a significant additional cost for the Association (mostly in Credit Card processing). We have developed a Points System - and you can see details for the program here! As you will see each player and family will be required to ensure they volunteer and secure the proper amount of points. Should you not complete the volunteering, CLL may charge you a Volunteer Fee at the end of the season which will be payable before your next registration. We have over 95% Volunteer participation, so we do not foresee any difficulties for most people. You will also have the option to opt out of volunteering for the association during the Registration process.
We will also be providing better tracking tools for coaches/team managers to keep an update to date list for their team to report back to us at the end of the season. If you indicate you are willing to volunteer for the "game day" activities, it is YOUR responsibility that you do enough tasks over the year to satisfy your points requirements.
---
Important Dates
December
1
Registration Opens!
4
Jr/Sr AAA Information Session - Details TBD
January
15
Last Day for Early Bird Rates
March
10
Registration closes for Minors Division and Above!
11/12/13
Evaluations for Minors Division and Above @Absolute Baseball
14/15
Centennial Little League - Casino
18
Centennial Little League selling Flames 50/50
April
4
Minors/Majors AAA Evaluations
6
Coaches Clinics
6
Jr/Sr AAA Division Evaluations
15
Practices begin for Minors and Above
15
Registration closes for T-Ball and Rookie Ball
30
T-Ball and Rookie Ball Schedule begins
May
7
Picture Day -2nd Annual Bottle Drive for KidSport
---
FOLLOW us TODAY for the most up to date Announcements